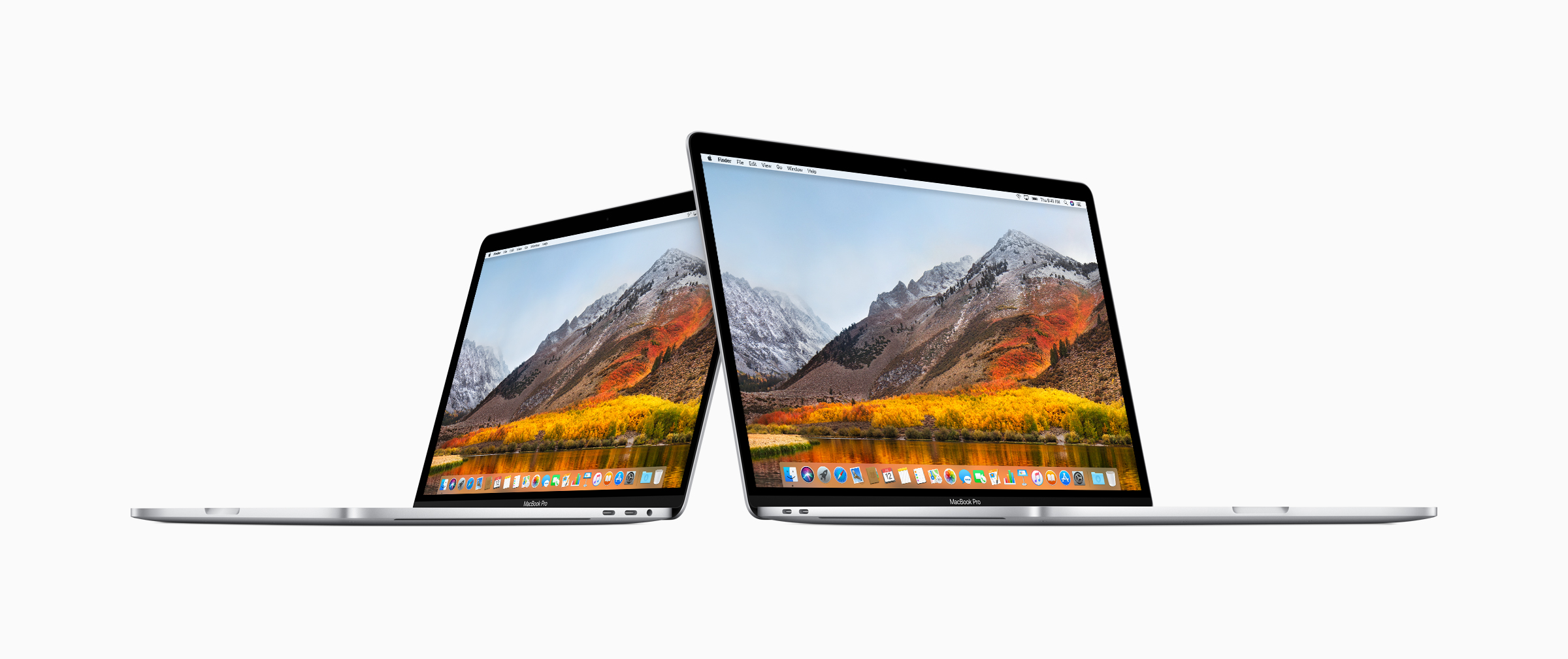 Apple updates MacBook Pro with faster performance and new features for pros #
Well this is unexpected, Apple have updated some of their Macs:
Cupertino, California — Apple today updated MacBook Pro with faster performance and new pro features, making it the most advanced Mac notebook ever. The new MacBook Pro models with Touch Bar feature 8th-generation Intel Core processors, with 6-core on the 15-inch model for up to 70 percent faster performance and quad-core on the 13-inch model for up to two times faster performance — ideal for manipulating large data sets, performing complex simulations, creating multi-track audio projects or doing advanced image processing or film editing. – Apple Newsroom
The improvements are to the 13" and 15" models of the MacBook Pro with Touch Bar, and there are also a few extra bits of news. I thought I'd try and extract the key improvements:
MacBook Pros
 Hardware
Faster CPUs – Now using 8th generation chips:

Quad-core Intel i5 and i7 processors up to 2.7GHz (Turbo Boost to 4.5GHz) for the 13"
Hexa-core Intel i7 and i9 processors up to 2.9GHz (Turbo Boost to 4.8GHz) for the 15"

Up to 32GB of DDR4 memory in the 15"
New HDD options – 2TB for the 13" ad 4TB for the 15"
New Apple T2 Chip
True Tone
Upgraded graphics chips:

Intel Iris Plus 655 for the 13"
Radeon Pro chips with 4GB of video memory for the 15"

The 13" model now ships with 4 USB C ports
The keyboard has been replaced with a new 3rd generation butterfly keyboard, which is quieter, and maybe more reliable.
Battery capacities have been slightly increased to cope with the newer specs. However, Brian Heater at TechCrunch says that no mechanical changes have been made.
Software
"Hey Siri" comes to the MacBook Pro because of the new T2 chip.
Also, enhanced security with secure booting, and on-the-fly storage encryption because of the T2.
 Extras
There are new colour options for the MacBook Leather Sleeve (13" and 15") – Saddle Brown, Midnight Blue, and Black.
These MacBook Pro's are also part of the Back to Schoo program, where students can receive a free pair of Beats headphones with eligible Macs.