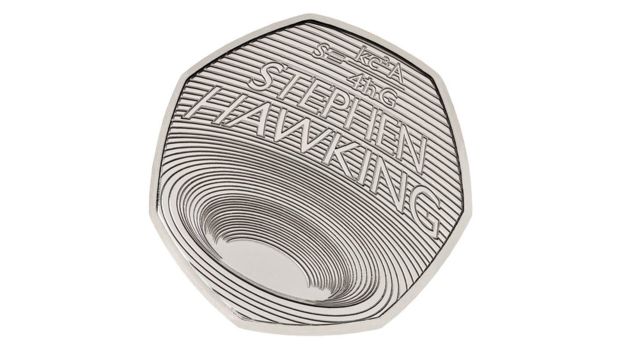 Prof Stephen Hawking Commemorated on New 50p Coin #
Photo Credit: Royal Mint
BBC:
Prof Stephen Hawking has been honoured on a new 50p coin inspired by his pioneering work on black holes.

The physicist died last year at the age of 76, having become one of the most renowned leaders in his field.

He joins an elite group of scientists to have appeared on coins, including Sir Isaac Newton and Charles Darwin.

Designer Edwina Ellis said: "I wanted to fit a big black hole on the tiny coin and wish he was still here chortling at the thought."
I've always liked the fact that we place very important people on our money, such as Charles Darwin, James Watt, and Michael Faraday. It signifies their reverence to the entire world.
It also reminds me of a talk that Neil Degrasse Tyson made at The Tanner Humanities Center, where he spoke about what some countries place on their money, from the perspective of America not having a lot of scientific achievements on theirs.